Transmedic was honoured to be part of this year's Singapore Orthopaedic Association 41st Annual Scientific Meeting as a Gold Sponsor. The Singapore Orthopaedic Association (SOA) was formed to actively advance orthopaedic surgery in the Republic, while promoting the relationship between SOA and the various Orthopaedic realms from around the world.
This year's event was held in the Grand Hyatt from 1st to 3rd November, with the theme 'Challenges of the Ageing: Caring for Sufferer & Healer'. The elderly often faces issues with their spines and ageing joints, and sustains osteoporotic fractures. In light of a rapidly ageing society, a comprehensive programme of symposia, debates, lectures and workshops was put together for surgeons to convene and discuss how best to attend to these needs.
What is da Vinci Surgery?
With the da Vinci Surgical System, surgeons operate through just a few small incisions. The da Vinci System features a magnified 3D high-definition vision system and tiny wristed instruments that bend and rotate far greater than the human hand. As a result, da Vinci enables your surgeon to operate with enhanced vision, precision and control.
The da Vinci System represents the latest in surgical and robotics technologies. Your surgeon is 100% in control of the da Vinci System at all times. da Vinci technology translates your surgeon's hand movements into smaller, precise movements of tiny instruments inside your body.
For more information, kindly contact:
The Medical City
Ortigas Avenue, Pasig City, Metro Manila, Philippines
Tel. Nos. (632) 988-1000, (632)988-7000
Email: mail@themedicalcity.com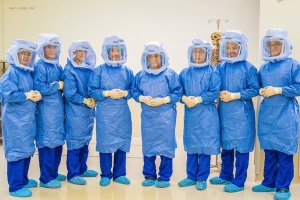 Surgical site infection is a real concern even in sterile hospital settings.
Hand hygiene and donning surgical gowns and gloves are ways for surgeons to prevent the transfer of bacteria, but Makati Medical Center, one of the leading hospitals in the Philippines, goes the extra mile by suiting up its surgical team in the Flyte Personal Protection System, the first of its kind to be used in the Philippines.
The Flyte Personal Protection System, also known as the Flyte suit, is a state-of-the science suit composed of an impact-resistant helmet and water- and tear-resistant gown.
The surgeon and the rest of the surgical team are covered from head to foot during a patient's surgery, with a suit that provides thorough protection against exposure to infectious body fluids and transfer of infection-causing bacteria.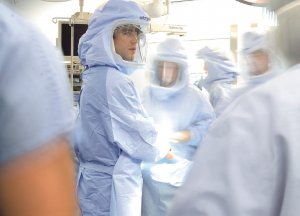 At MakatiMed, the Flyte suit is currently used in major orthopedic cases with high risk of infection, primarily joint replacement surgeries.
"Infection prevention, especially in hours-long orthopedic surgeries, is crucial to patient safety," said Liberato Antonio C. Leagogo, Jr., MD, FPOA, Chairman of the Makati Med Department of Orthopedic Surgery.
He added that surgical site infections or SSls are caused by bacteria that enter incisions made during surgery. An SSI may cause redness, inflammation, discharge of abscess, fever, and pain.
"As a premier hospital, MakatiMed already ensures patients and hospital guests are safe from infection, but the Flyte suit further guarantees that both the medical team and our patients are completely protected in the operating room, safeguarding the patient from delays in his or her healing process," he said.
Alan Leonardo Raymundo, MD, FPOA, who heads the Arthroplasty Service of the department, added that the "Flyte Personal Protection System has enhanced our surgical team's confidence in meeting different surgical challenges, knowing that we have the best protection for both doctors and patients against the spread of hospital-acquired diseases."
For more information about the Flyte Personal Protection System, click here
SaveSave